About us
Drafter.com is a company engaged in the field of design and integration of commercial transactional websites and database management for over 15 years.

Thanks to the expertise and creativity of our team we can help maximize business opportunities by modern design, increasing prospective customers and building loyalty with our management modules and interactivity.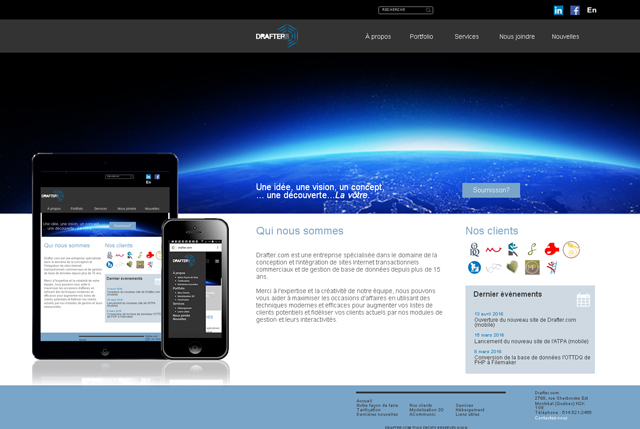 April 11, 2016 - Drafter.com launch his fluid platform making their site available to all mobile devices.
Latest events

Octobre 2018
Drafter.com launches the Compafact.com French and English online bookkeeping application.
Compafact.com
May 2017
Drafter.com launches the new online bookkeeping application Compafact.com. Pre-registration is now available
Compafact.com
April 2017
Drafter.com grants the mandate to manage, update and enhance the Habitations Duchesneau site in Granby.
habitationsduchesneau.com
March 2017
Launch of the new FCRDM Marathon website, registration are now open online.
marathonFCRDM.org
April 2016
Opening of the new Drafter.com website (mobile)
March 2016
Launch of new website ATPA (mobile)
March 2016
Conversion of the OTTDQ database from PHP to Filemaker 14