3D modeling
Our latest service just came up at Drafter.com. We produce with the help of
SketchUp
models for small, medium or large business for viewing on
Google Earth
.
Our models are optimized for maximum download speed which helps promote the information attached to it .
Whether it is real estate project under construction, an office building, a company located on a mountain side, we allow you to present your project before or during construction or renovation.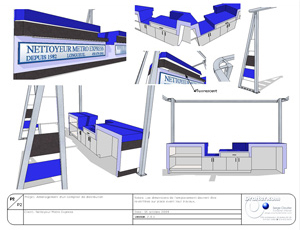 Realized for
Metro Express Cleaner
The client was in need of building a distribution counter with strick space requirement from the renter.
Planche technique produite avec Layout 2.1
Présentation animée produite avec Sketchup Pro 7


















All models can be found and download from the Google 3D warehouse
Google Earth needs to be installed to view these models